Our People – Jennifer Lopes – AMEP trainer Alice Springs
STAFF PROFILE Q & A
We recently caught up with our new trainer 'on the block' Jennifer Lopes! Jennifer loves working with new Australians to help them become part of our multicultural country! She believes that 'language is the key to belonging as it enables people to communicate with others and be part of the community.'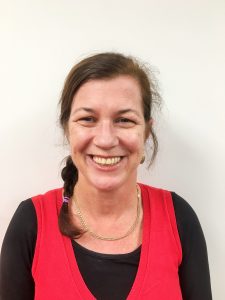 Where do you teach AMEP?
STEPS Education & Training,  Alice Springs, Northern Territory.
What do you love about your job?
Working with new Australians to help them become part of our multicultural country.
Helping people feel confident to use English socially and for employment.
The enthusiasm and motivation our clients bring to learning English.
What do you enjoy teaching to your students?
The power of language to communicate and how they can transfer their language skills in their first languages to English.
How Australia is a multicultural country and how people can benefit from keeping their own culture and languages alive, but also the importance of fully embracing the freedom, laws and democracy that Australia has to offer.
What do your students teach you?
Many students have been through very difficult experiences in their life and remain so positive and are determined to create a new life here.  This teaches me about how strong and resilient people are and also how lucky I am to have grown up in a very safe country like Australia.
What is something that helps new migrants feel a sense of belonging in the community?
Language is the key to belonging as it enables them to communicate with others and be part of their community. Meeting other new migrants in class and making friends also helps people feel like they belong. Getting work and being able to provide for their families also gives a sense of pride and belonging.
If possible, joining in to play a sport or a group exercise enables people to belong to networks outside their immediate family, as well as giving physical and mental health benefits.
What's something most people don't know about you?
I lived in East Timor during the assassination attempt of the President and Nobel Peace Prize winner, Jose Ramos Horta.
Anything you'd like to add?
I love teaching students who are motivated to learn!
Want to know more about our free English classes for migrants? Call Alice Springs – 08 8950 7600 or  Darwin – 1300 585 868 for helpful info.